In Mid-Oct 2016, In2Solutions accompanied a Company associate to an International Conference in Prague (Czech).
When not at the Conference venue a key professional destination for me was the large Museum of Technology.
Czech has an amazing industrial background including cars, motorcycles, trains, etc…
Czech's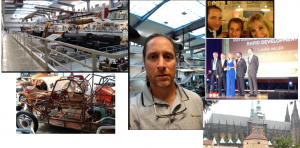 evolution of Car & Cycle designs was especially well captured by the museum!
I highly recommend Prague – – a ton of history in a very compact footprint.
Many architectural influences! Structures/Castles/Cathedrals 600 to 1000 years old! Great Public Transport or just WALK everywhere.
Good food, friendly people, lowest beer & wine prices in Europe!
Featured Projects

Plastic Tray on Steel Frame
Performed "forensic" FEA to determine why an existing product line was failing in certain climates.
Rotary Machines
CAD Import, Subdivide for efficient and accurate Brick elements. High Speed Rotation.
Scott M. reports that we saved them 2 years in ramping up ANSYS


Scott M.

If you want quality work, look no farther. Mike will take care of you and any problems you have.


Lindsey W. – Zebulon, NC